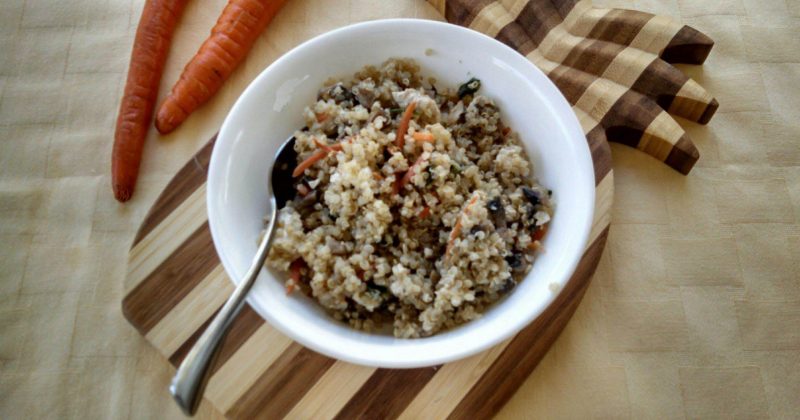 As trainers, we understand the importance of eating right but we also like our food to taste good! This recipe is exactly that – healthy and tastes amazing! This vegan recipe is so delicious that even my 4 year old and 19 month old devour it! (Except I leave out the raw ginger and garlic in their servings … a little spicy for them.)
The nice thing about this recipe is that it's quick and it's chalk full of health benefits! Research shows that eating raw garlic can lower cholesterol, reduce blood pressure, and fight the common cold. You can find out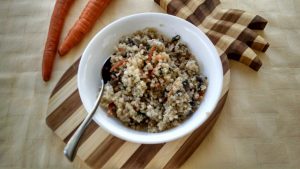 more about garlic's amazing properties here. Plus, consuming raw ginger helps combat digestive issues and fights inflammation! This is amazing because inflammation causes weight retention and is a precursor to a lot of chronic diseases. (You can learn more about this by attending our 20/40 Project.)
And lastly, this salad is a great source of protein! Organic tofu and quinoa are both complete sources of protein!
Quinoa Salad with Raw Garlic & Ginger
Ingredients:
12 oz prepackaged marinated tofu, diced*
1 cup quinoa
1.5 cups water
1.5 – 2 cups shredded carrots
1/4 – 1/3 cup chopped fresh cilantro
2-4 minced garlic cloves (depending on how garlicky you like it)
1/2 inch to 1 inch grated fresh ginger (depending on how spicy you like it)
1.5 Tbspn tamari, soy sauce or Braggs Liquid Aminos

Optional:
12 ounces chopped mushrooms
1 Tbspn coconut oil
Directions:

Add the water and quinoa to a saucepan. Cook over medium heat until all water has evaporated.
While quinoa is cooking, saute mushrooms in coconut oil with a dash of sea salt.
In large mixing bowl, add tofu, carrots, cilantro, garlic, ginger, Braggs, mushrooms and quinoa and stir until well combined.
*Instead of prepackaged and marinated tofu, you can make your own. Just dice, saute and season a block of firm tofu. I add it to my sauted mushrooms and add salt, pepper, garlic powder, Tajin and occasionally a bit of dried sweet basil.