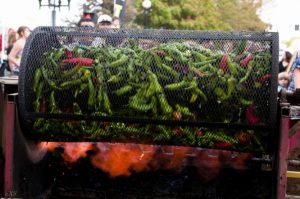 I grew up in Pueblo, Colorado and it's famous for its green chili! It's so delicious you want to lick the plate! In Pueblo, we would smother burritos, burgers, fries, eggs, and more! But it isn't the most healtiest … that is until we invented this version! Oh my. If it wasn't so hot, you might want to drink it! Ok, maybe not, but it's amazing.
The most authentic green chili actually uses a roasted Pueblo Green Chili, which is only grown in southeastern Colorado, particularly in Pueblo. Since these aren't available all over the world, I've put other chili options that make it taste just as yummy.
Vegan Green Chili Sauce (Pueblo style)
Adapted from recipe by Christine Bettiga
Ingredients:
3 serrano chilies
1/4 cup extra virgin olive oil
3-4 roasted green chilies (Anaheim or Ancho)
2-3 jalapeno peppers
16 oz chicken broth
or 1 Tbspn McKay's Chicken Seasoning with 2 cups water
1-12 oz can stewed tomatoes
1 cup water
1 tsp cumin
½ tsp curry powder
1 tsp seasoning salt
1 tsp fresh cilantro
1 tsp cayenne pepper (optional)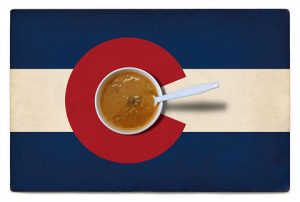 4 garlic cloves, sliced
½ tsp salt and pepper
1 small yellow onion
Directions:
In large pot, saute onion and garlic in olive oil until soft.
Add flour and stir, browning flour as you would a roux.
Add some of your water or chicken broth if flour is too thick, keep stirring until it bubbles.
Add chicken broth.
Add the rest of the ingredients and bring to a boil, then turn heat to low.
Cook uncovered about 20 minutes, or until peppers are soft, stirring occasionally.